Monday, April 23, 2018 (5:30 PM - 7:30 PM)
Pricing
Free / $10 Suggested Donation to Benefit Opportunity Works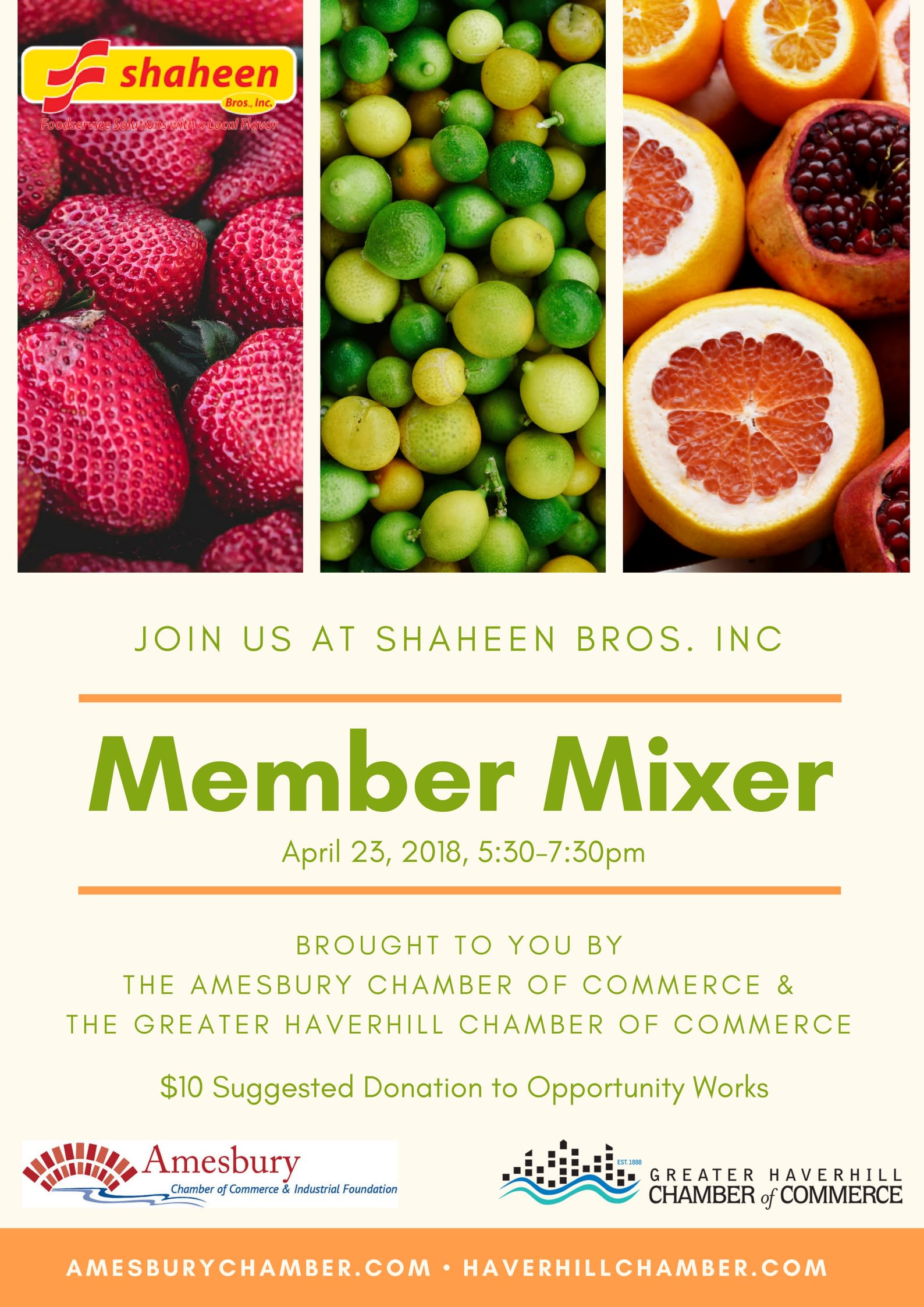 It's time for a Mixer Monday and this time we're going big! Shaheen Bros., Inc is hosting our April Mixer brought to you in collaboration with our friends from the Greater Haverhill Chamber of Commerce. Refreshments will be provided. Join your fellow chamber members for a chance to mix and mingle at the 'coolest' place in town. Tours of the 70,000+ square foot warehouse (including dry, cold and freezer storage) will be available. Shaheen Bros., Inc. started over 75 years ago by selling fresh produce in local neighborhoods from a horse and cart. This local business is now known for their red trucks supplying the food service industry from Maine to Boston.
Our featured non-profit for the evening is Opportunity Works. A non profit agency serving more than 260 men and women, ages 22-75 who come from 19 Merrimack Valley/North Shore communities. The agency operates with hundreds of staff and volunteers who participate in fundraising and outreach events, serve on advisory committees, and volunteer in programs.
Please feel free to invite guests who could benefit from Chamber membership or learning about Shaheen Bros., Inc. and Opportunity Works. Don't forget to bring your business cards – there will be raffle items you want to win!
Registration not required however we do suggest a $10 donation at the door to benefit Opportunity Works. You can register with the Amesbury Chamber of Commerce OR the Greater Haverhill Chamber of Commerce.
Please contact the Amesbury Chamber of Commerce with any questions by calling 978-388-3178 or emailing info@amesburychamber.com.
Event Contact:
Kassandra Gove
Contact Organization:
Amesbury Chamber of Commerce