258 Andover Street
Georgetown
,
MA
01833
United States
Tuesday, March 24, 2020 (7:30 AM - 9:15 AM) (EDT)
Date: Tuesday, March 24, 2020 Time: 7:30 am - 9:15 am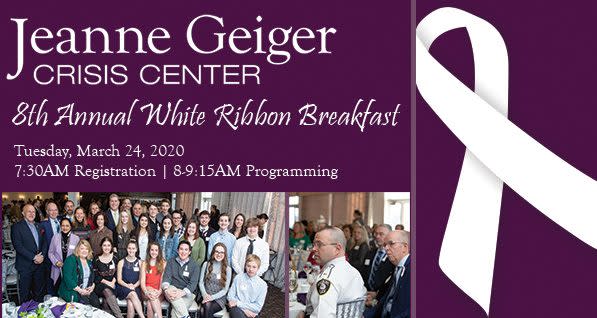 Please join us for our 8th Annual White Ribbon Breakfast on Tuesday, March 24th, where men and boys join in the effort to end violence against women and girls, promote gender equity and healthy relationships.
The White Ribbon Day Initiative: The Massachusetts White Ribbon Campaign is a part of a worldwide movement for human rights that engages men and boys to help end violence against women and girls.
In order to break the cycle of violence before it affects the next generation, the Center offers an innovative Youth Empowerment Services (YES) Program that uses evidence-based and nationally-recognized approaches to educate and engage girls and boys in breaking the cycle of domestic violence. Through three different programs, we empower girls, foster healthy dating relationships, and engage boys and girls in violence prevention. We are currently reaching students in upper elementary school through high school. Last year, YES programming was provided to over 1,100 students and faculty in schools across Essex County.
The Jeanne Geiger Crisis Center is a non-profit social justice organization that responds to the needs of families in crisis due to domestic violence. Our mission is to empower individuals and engage communities to end domestic violence. We serve adults and children in communities, from Ipswich to Newburyport and Amesbury to Lawrence, MA.
Link for more info: https://jeannegeigercrisiscenter.org/events/8th-annual-white-ribbon-breakfast/