Description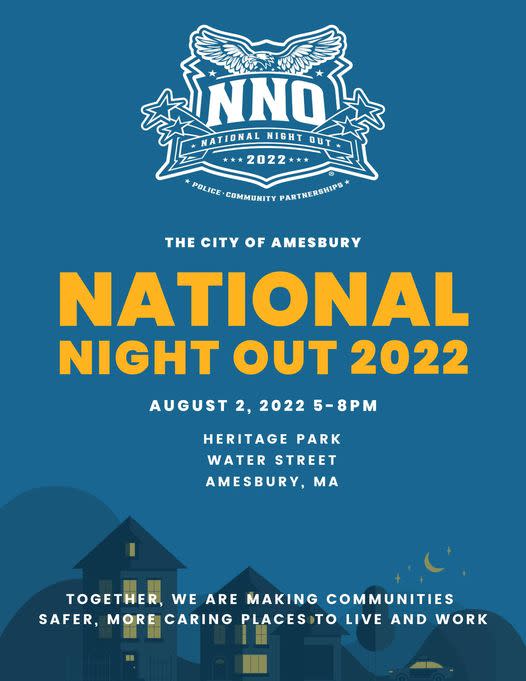 National Night Out
Heritage Park, Water Street Amesbury, Ma.
Tuesday August 2, 2022
5-8 PM
Mark your calendars and get ready for one of the best National Night Out events we have ever put together! This marks 26 years of Night Out in Amesbury and our public safety car show has grown each year.
We have decided to change the location to Amesbury's Heritage Park Lower Millyard. This change will allow for some extra parking, and make it easier to walk downtown and join us.
This years line up includes some delicious menus from some of the best local food trucks; Butter Ur' Biscuit, Tres Latinas, Beefie Boys, The Whoopie Wagon, Monstah Dawgs and more to come!
There will be a star studded cast of local Boston Sports Alumni signing autographs. And as a very special treat for this years Night Out, a Boston Red Sox World Series Trophy will be on display!
This is a fun and FREE night for all ages, and if you're not into sports you can come out and get your picture taken with some of your kids favorite characters.
Many of our trusted community partners will be there handing out goodies, information and sponsoring some great attractions again this year.
Thank you Amesbury for making this such a fun event to plan!
If you would like to be involved please E-Mail Officer Guilmette @ Guilmetter@Amesburyma.gov.