Friday, June 22, 2018 (12:00 PM - 1:30 PM)
Take time today to celebrate the tradition...
"Amesbury Day's originally began in 1899 as a single day event run by local factories FOR THEIR EMPLOYEES!
Let's all celebrate the tradition of "Amesbury Day's" ! To start the celebration we will host our pre-sold Friday Lunch delivered to local businesses. We look forward to taking orders for our famous lunches again this year, which can be delivered to your place of business. This is a great way to say thank you to your valued employees, share lunch with each other or to tempt you to come back to Main Street Church on Saturday too!
The lunch includes a quarter lb. lobster roll or chicken salad sandwich, chowder, strawberry shortcake, chips and water and can be delivered to your office between Noon and 1:30 on Friday, June 22nd. Orders can be taken by phone or e-mail (using credit card). Don't miss this great opportunity for a delicious lunch delivered to your door!
Download your order form by CLICKING HERE.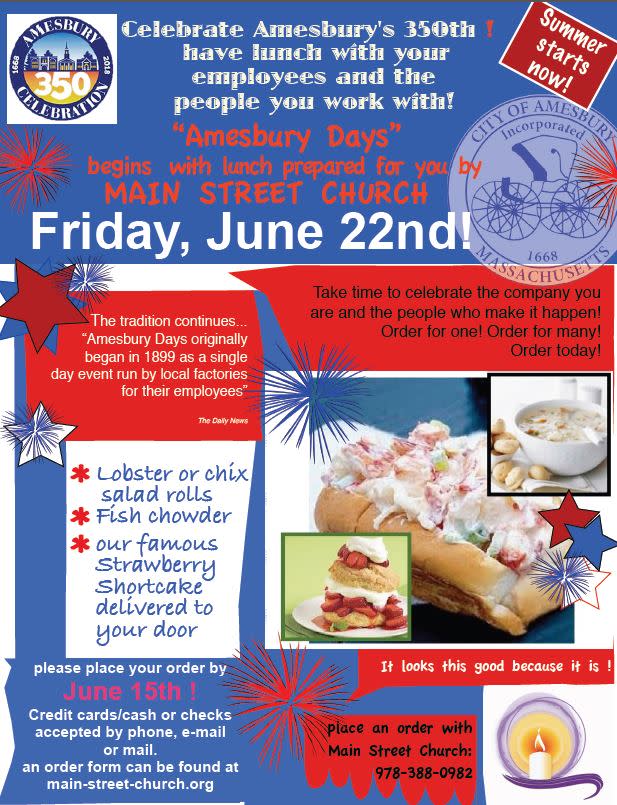 Event Contact:
Stacy Lamson
Contact Organization:
Main Street Congregational Church UCC